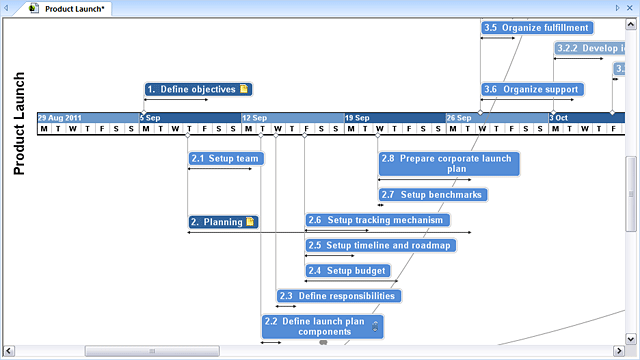 Recently (June 22… I'm lazy, remember), I had the opportunity to speak with Brandon Conrad of Matchware about their new (I'm guessing) software, Mindview 3.
First off, I like their philosophy. It's not so much making the mind map according to Brandon, it's what you do afterwards. Why does that ring so true with me? Because I've seen people make gorgeous mind maps, only to never-ever-ever-ever touch them again. Like little digital Sistine Chapels that no one ever goes into. So the philosophy is solid. They want you to see it as a business productivity & efficiency tool. Power down your bongs!
Back to my laziness… They've optimized the software for project management. It has a drag and drop timeline and just plain sex appeal. They've pimped it out with a work breakdown structure. They were sly as hell to put the timeline in there because, as Brandon says, 'management doesn't always want to see a Gantt Chart'. It's all so seamless that my lazy brain activator system (It looks like a smiley face death star under a microscope) gets very happy thinking about it.
To the viewer side of things, they've created a 'Focus mode' that makes topics visible in the back of the room. Personally, I tend to sit in the back when I don't feel like contributing, so I'm not a huge fan of this feature because it takes one of my great excuses away for playing Nintendo DS: 'I can't see the screen'. But decent people should like it. People you can count on. The people you see in movies where it was easy to tell right from wrong. I miss the good old days I wasn't even alive for. But these are the good old days. Fried chicken, snap. But yeah, it will get even the people in the back of the conference room talking
Further, they've got a solid numbering schema in their maps. According to Brandon, numbering helps people in the US where mapping is less familiar than in say, the UK where mapping is like Mickey Mouse (exaggeration). And Mindview now has a filtering function, which is a prerequisite for me to even consider using a piece of software. The interface to filter based on categories is sexy, though that word makes me think of ladies not software.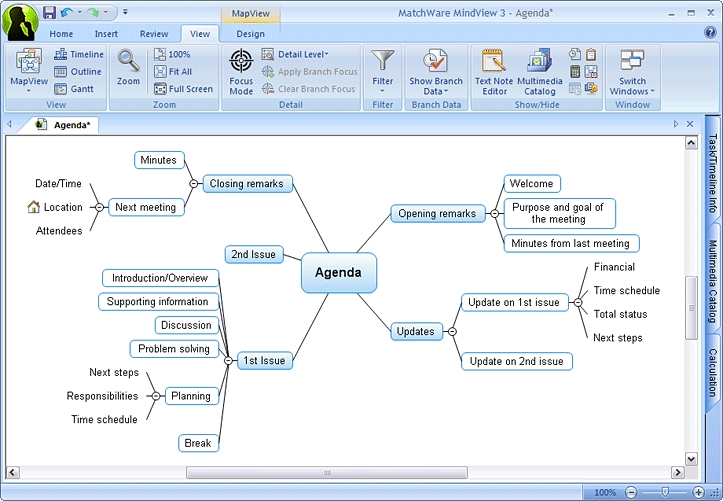 And now we come to the pimp shit, the reason I may get this Mindview software out for myself to use at times. No drumroll, I need a beat. It's the calculation feature fool! You can put formulas in topics. And it just gets better as you can make formulas default across the entire map. You can autosum across the branches of the entire map. IT ACTUALLY MAKES ME WANT TO DO MATH! Somewhere an angel just got it's wings.
Another prerequisite is Office integration. They've done a solid job here with Excel and pre-made export templates, which look damn compelling. Outlook is here as well.
So Mindview is solid with easy project management, a slacker killer of a focus view and the pimp shit calculation function. The last thought I'll leave you with is maps in Mindview look like tasty cake (good) without doing much to them. Now, check it out and leave a comment below to let us know your thoughts.