Ladies,
I come to you today with a serious topic of discussion. There is still time to save things. If you act now. Here goes…
You need to think very, very, very carefully about the leggings as pants ladies. And just to be clear, I'm referring specifically to leggings worn as pants, not as part of an outfit where they fit the role of panty hose or something like that. And before you accuse me of wanting the fairer sex in beekeeper's suits, let me unequivocally state that I enjoy shorts, skirts, even skorts, sweat pants (selectively), sweat shorts, jogging shorts, bikinis, mini-skirts and of course Victoria's Secret (had to be a tramp stamp). Kyle's a pig! Who woulda thunk it? [BTW, thanks again for throwing the VS Christmas catalogue away Jeff, good buddy old friend: Now how do I shop for my imaginary gorgeous girlfriend for Christmas?] So now that I've established myself as a lusty, chesty guy (think Beauty & the Beast's Gaston with less muscles and even less accent)…….. holy shit, what is with the leggings without thought of the consequences? I can't put my finger on what it is that bothers me about them at times. Girls have been wearing skinny jeans forever – I like those. But with leggings, at best the girl deserves to fly herself onto Ibiza in a pink fighter jet with a 'Mission Accomplished' banner fluttering in the background… other times the girl misses the island entirely and kills a whale.
(Go Pippa! I approve.)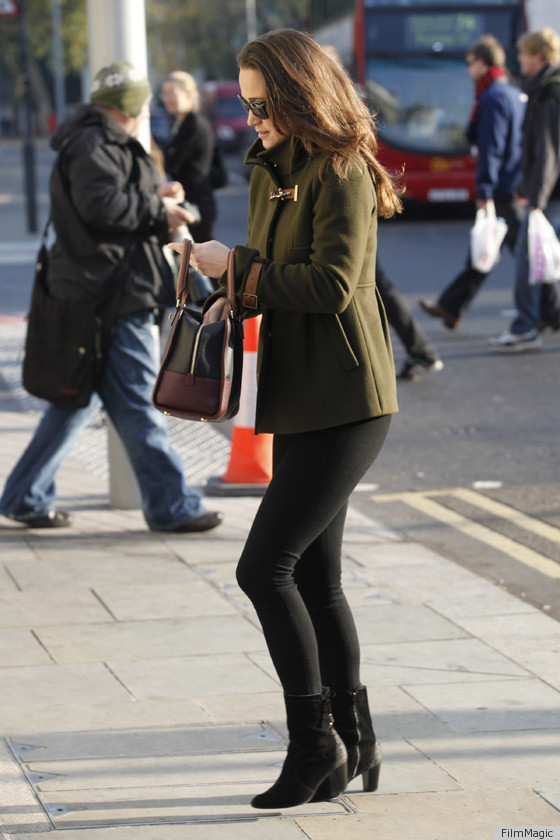 But there's something about leggings that are just so… hit or miss. And I can't even find any trend to the pattern. It's not a skinny or a curvy thing because some of both succeed and fail in leggings. Like if you think of jeans, basically, everyone looks good in them. But leggings are a different animal entirely. I've seen women who could walk runways wearing leggings and looking like strange giraffes for it. And I've seen women who I wouldn't notice a second time turn into Goddesses in leggings. They do strange things to straight-aways and curves… we must strategize…
Actions You Can Take to Make Leggings Your Friend (or at Least Frenemy)
So let me restate, some women do look good in leggings, even epic... You just need to know if you're one of them.  So use the following to ensure there is nothing lumpy or camelly about your holiday swagger, just sweetness like a latte.
Check yourself out in leggings - what do you think? Look back and front. That's right, use the honest mirror, the one you hate for it. Be truthful with yourself. If you're impressed, proceed to step 2, if not, proceed to step 4.
Ask a girlfriend you know will tell you straight up for an opinion of you in leggings. If honest chica gives thumbs up, proceed to step 3. If not, proceed to step 4. 
Ask a guy who is in no way dependent on you for the good lovin' and is known for bluntness how you look in leggings. Press him and let him know that no food will be withheld for his candor. If he gives thumbs up, move to step 5. If he doesn't, move to step 4.
Landing Spot 1: Wear yoga pants instead. If you want the leggings look and you still want there to be some mystery about…errr… your calves… yoga pants are where it's at. All the hotness and they don't tend to make girls look weird.
Landing Spot 2: Wear the leggings and be confident. You earned it because you passed through my steps, Candyland-style. Just try to stay calm if a guy stares because merchandise is being paraded Vegas-style: It's like when a girl has a paragraph across her chest or butt: I've earned the right to read.
Because I haven't talked about mind mapping much for awhile (even though I'm dealing with it professionally more than ever) I would have liked to in this post, but I just can't talk about it right now… but wait for it.
So I hope I've given the ladies the ultimate gift of looking hot for the Holidays… you're welcome.
Happy Holidays!
Go Kyle!
What do you think?
Leave a comment below and let me know.
(NOTE: Thank you Mandi for helping me think this issue through and the yoga pants idea.)